It is since the time of the second world war that the Walkie Talkie is in use. This device has enriched the communication technology of human beings and the nations since those times. During the times of hardships, this device was termed as a golden egg mostly used by the military officers.
Gradually, the walkie talkies came up into public and then after some years, and the whole world population could use this device for convenience and comfort. Various features of the walkie talkie are considered best for certain people, not only for the older generation but also for some professionals and technicians. This device is so popular that it doesn't fail to attract today's younger generation as well. 
Now that we have smartphones – Androids and iOS, there's always a way of finding your interests and needs. Similarly, the tech. Savvy kids and youngsters today have successfully carved out a way of accessing the features of the walkie talkie even in the androids.
Yes! This is now possible due to the availability of the walkie talkie apps which don't use the traditional features or techniques of the walkie talkie but allow all the features converted into new opportunities. 
These days they're also considered as a fun way to carry out specific opportunities like – 
1) Voice mails
2) Messages
3) Calls through a dedicated channel
The Best Walkie Talkie Apps for Android and iOS –
1) Zello 
This app is rated the number one walkie talkie app for the android and ios. There are various features which lead to the popularity of Zello. This app is now used by most of the users due to its usability. It is easy to import contacts, talk individually and even by creating group channels of friends, relatives or co-workers.
Moreover, if you're socially active, you can also join the group channels formed based on specific topics. These channels contain local people involved in chatting or talking about a particular topic. Even these group channels have the system of voice mails. Apart from this, there is a useful feature – volume level setting for every individual user. 
Features
● Text-messaging
● Images messaging
● Voice-mails
● Group channels
● Socially active
Cons
The only issue with this app is that it won't work with a VPN in your phone and open wifi networks. 
Download Zello App for Android
2) Two-way
This is another walkie talkie app on android just like Zello. It is known for its simplicity in usage. This doesn't ask the user to create an account. This attracts many users apart from the excellent interface it provides.
Let's see how it works. You need to click on the menu button and select the keypad option to start a conversation. Once you're done, you can find a 6-digit channel number. You will have to share this number with your friends or closed ones to which they need to connect back to get into the channel.
Features
● Good interface
● Access to random users
● Conversation with local people
● Phone calls and messaging
Download Two Way App for Android
3) Hey Tell 
Hey, Tell is a popular platform among all other walkie-talkie apps, mostly known for as a cross-platform because it allows voice messaging by recording for free. What is intriguing is that messages are delivered in just 2-3 seconds of sending them.
To provide you with some information about the initials of the android app, you'll need to give some details like your phone number, name, email address etc. It is more like registering to certain apps or websites these days. This information that you provide will be displayed in the profile.
Once you've sent the messages, the recipient receives push notifications on his or her device. The voice recording has excellent clarity and the app ships with a tool of voice changer. This tool lets you access and listens to the previous messages.
Features
● Voice changer tool
● Clean user interface
● Push notifications
● Informative profile
● SMS and email
Download Hey Tell App for Android
4) Voxer
This free walkie talkie app is a real-time one. It has its unique features that maintain its popularity well. The messages you receive through this app can be listened to instantly or later. One of its essential elements is a private chat. You can enter into a private chat room; you can exchange messages, emojis, links, pictures and also GIFs with your friends or relatives. These private messages are encrypted.
Another feature that can be termed as an advantage and even a disadvantage according to your preference is that the app deletes all the messages of private chat when you leave the chatroom. You can mark the messages as read and can create and share the notes.
Moreover, this app allows you to disable the notifications which are unwanted to you and to add your location in your texts. Even this location sharing can be turned off according to you through the settings. 
Features
● Location sharing
● Notifications disabling
● Private chat room
● Emojis, picture and link sharing
● Creating and sharing notes
Download Voxer App for Android
5) TIKL Touch Talk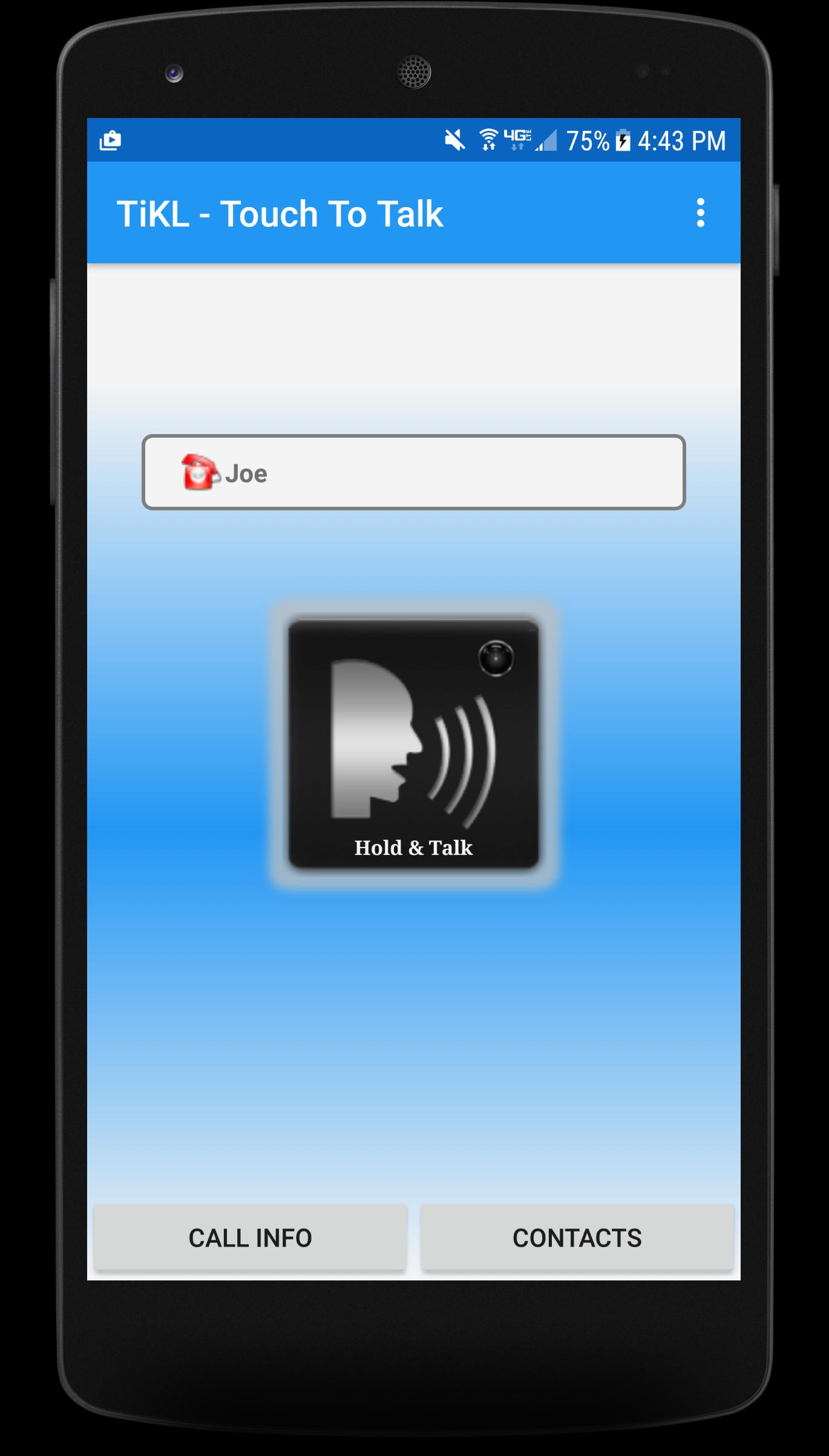 This free app of walkie talkie can turn your phone into a push to talk device. It has some simple yet cool features that keep the users falling in love with this app all over again. This supports individual as well as group calls. What is new is that this app sends you a confirmation message whenever your message is delivered to the recipient. Voice recordings are also delivered quickly through this app.
All that this app requires is either your mobile data or your wifi connection for sending and receiving messages. TIKL also allows you to create a home screen widget for the usage of which you will have to verify your phone number.
The easy usage of TIKL is simple and allows three privacy modes –
Walkie talkie
Polite
Busy
Not only this, but you can also connect to your Facebook friends besides the ones in your phonebook.
Features
● Group calls
● Privacy modes
● Facebook contacts
● Confirmation messages
● Home screen widgets
6) IFA (Intercom for Android)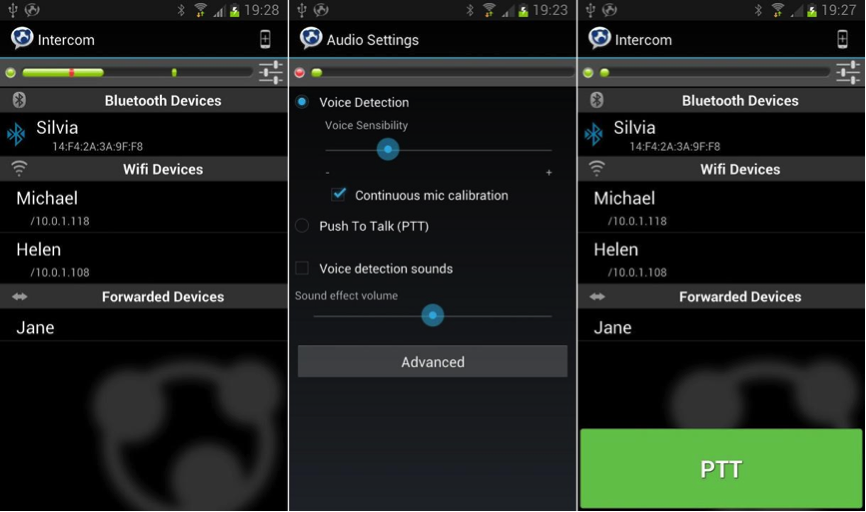 This walkie talkie app is known for its excellent voice chat features with friends and relatives. This app works and connects people staying in the radius of 105ft. Of your proximity. This is the maximum range of any wifi router while the Bluetooth range is 33ft. If you're connected via Bluetooth, your friend must be within 33 ft. from you to talk to you with this app.
Intercom for android app is powered by an algorithm called robust PPT. This works in an offline mode. This app, without using mobile data, uses Bluetooth and wifi technology to work as a walkie talkie.
This app doesn't require the account registration so no email address, phone number etc. You will need to pair two devices via Bluetooth or wifi.
Features
● Great voice chat
● 105ft. radius
● 33ft Bluetooth
● Robust ppt algorithm
Download IFA -Intercom for Android
Conclusion
These walkie talkie apps have proved to be the best in terms of various aspects like talking, messaging, voicemail, sending pictures and emojis etc. These apps have come up to serve the needs and interests of the users. The unique features and aspects of these walkie talkie apps have successfully worked out in the modern android and ios devices. The minimal cons of these apps make them the best of all others.
.