What comes to your mind when you hear the word video chatting? Well, I'm sure it is zoom for most of the users out there. Well, the zoom has gained a lot of popularity in the recent past when it comes to videoconferencing. But it then comes with privacy issues. So, here we are discussing some of the best video chat apps except zoom:
7 Alternatives to Zoom App for Video Conferences From Home
1. WhatsApp
WhatsApp stands number 1 in our list because this app is used by almost all of the users who use smartphones.
Not for the business users out there, but if you are looking for something that can be used to make calls and video chat done with your friends and family, then you can use that.
And why do we recommend this? Because it is one of the most accessible services to place a video call to your family and friends, and it is available on most of the devices out there. The one thing to remember here is that WhatsApp allows only eight users on a video call. You may feel that the video quality is low as compared to others, but this app is one of the easiest ways to use and available to almost every smartphone user.
Also, WhatsApp is available on Android, iOS and web too.
But if you are looking for something on the business side or if you want better quality or more on-call we have something better for you.
2. Google Duo
You might have heard that Google Duo comes with privacy issues.
How could one even think like that? — It's a Google product, so there are no issues with any privacy. You can use it comfortably without any hesitation. It is effortless to use, more accurate, fast and user friendly.
Now, not only does the call quality is an upgrade on Google Duo when you compare it on WhatsApp.
It also allows you to add up to 12 participants in one call.
Also, unlike WhatsApp, Google Duo is available on most of the platforms.
Google Duo does not allow you to send text messages; it is purely a video chatting application which is used worldwide.
This can be used for family, friends or even for business video conferencing purposes.
In addition to that, Google Duo works on Android, iOS and web also.
So, you can use it hassle-free on this platform.
3. Skype
No video conferencing is complete without including Skype, and it has been there in this particular market for a long time now and still one of the best that you can use.
The service offers almost the same functionality as a zoom, and the servers are quite reliable nowadays. The thing to keep in mind is that the free version allows you to add up to 20 members to a call as such for a small business or meetings that require only a part of the organisation and the free version works well.
Also, Skype is banned in some of the countries like the UAE and Oman. Then, in that case, you are supposed to search for an alternative app for Skype. You can use WhatsApp and Google Duo over Skype in such countries, but we have some other apps on the list which you could use in 2020.
Skype works comfortably on Android, iOS, Web, Windows and Xbox also.
However, if you are a more prominent organisation and if you want more people on call you can check out skype for businesses and if you are a team of let's say 1000's of people you can use Microsoft Teams.
4. Google Meet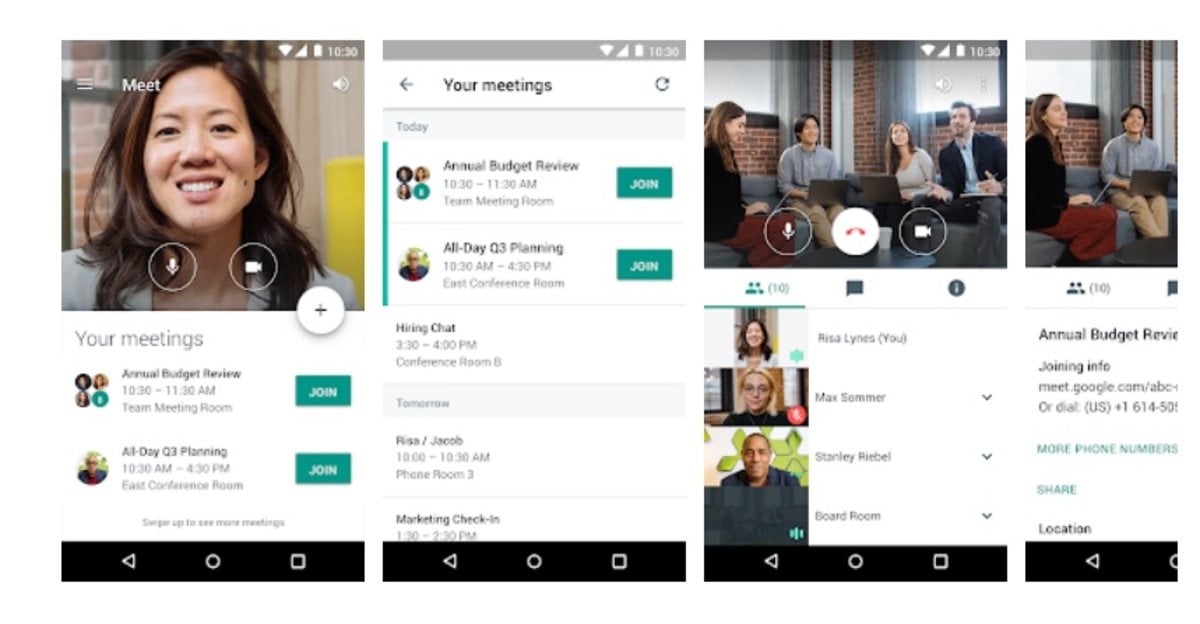 You can consider Google Meet as an enterprise version of Google Hangout.
In Google Meet, you can add up to 250 people;
you can take calls, schedule meetings and calls that get synched directly to your Google Calendar. Record calls and much more on it. Also, it is one of the most intuitive services out there.
Now one thing is worth mentioning – only the host needs to be a part of the G suit organisation. Any person with a Google account can attend the particular meeting even though he/she is not part of the G-Suit business account.
Google Meet is available on Android, iOS and web also.
5. EZTalks
This particular app has amazing web and video conferencing features such as full online control and interactive whiteboard to brainstorm and bring ideas to life.
You can share a presentation slide, audio and video with upto 10000 participants. 
Apart from that, you have polls; you can chat in private even though you are in a meeting You can schedule unlimited calls using this particular app but then just like zoom you have 40 minutes for those free accounts. You can upgrade bro premium version if you are looking for more features.
EZ talks is available on both Android and iOS.
6. Facebook Messenger
Facebook Messenger is a more massive file when it comes to data consumption, just like Skype. But you will not regret the quality because Messenger offers you a crystal clear quality.
Messenger allows you to add up to 50 members in video chat. 
Whenever you are in a video chat, you will experience that only six members are visible on the screen.
So, the concept of Messenger works like; only six dominating members are visible on the screen, those who are talking most amongst the group are visible on-screen while those who are not talking, their windows have been hidden by the Facebook Messenger. This is suitable for connectivity.
Messenger is available on both Android and iOS.
7. Houseparty
Houseparty is not a dedicated Video conferencing app, but it is a social media app which is used worldwide for video chatting.
You can make friends in Houseparty, just like other social media apps like Facebook and Instagram. Whenever you are living in this app, your friends can join you in a video chat.
Houseparty allows you to add up to 8 participants in the video chat.
The best part of this app is whenever you are connected with your friends while video chatting you can play various interactive games with your friends.
Houseparty is available on Android, iOS and web also.